As a streamer, you probably want to get more activity in your chat. After all, active chats offer a number of benefits that can really help your stream and your community grow.
There's no denying that empty chats can be a turn-off to new viewers, especially if the streamer is dead quiet and not saying much while they are live. Active chats can entice a new arrival to stay around a little longer and see what's going on.
Having more activity in your chat can keep viewers hooked and entertained, allowing you to slowly build a community. It can also start influencing even more people to become more active — until you end up with a domino effect of more people talking and perhaps even slowly befriending each other.
One way to bring more activity to your stream is by playing Twitch chat games that integrate with Twitch. You can play multiplayer games with a limited number of them or play games that integrate with Twitch, allowing more people in your chat to participate.
Let's take a look at some of the best games that integrate with Twitch chat and then dive a little deeper on how they work.
Best Games With Twitch Integration (Twitch Chat Games)
*Note: This list is in no particular order — we're sure you'll be able to find the perfect game that integrates with twitch chat.
The Jackbox Party Packs
Words On Stream
Drawy
Marbles On Stream
Chess +
Move Or Die
Dead Cells
Geoguessr
Ring Of Pain
Gartic On Stream
Gartic Phone
Gartic Show
Choice Chamber
Ultimate Chicken Horse
Da Twitch Charades
7 Days To Die
1. The Jackbox Party Packs (1-8)
The Jackbox Party Packs are games that everyone can enjoy — and we mean everyone.
The eighth instalment was just released in October of 2021, adding five more exciting minigames to the already compelling collection. The minigames here are structured like gameshows, allowing up to eight participants in every lobby. If your lobby fills up and others still want to join in, there are still ways for the audience to participate. Minigames are fun, engaging, and gut-bustingly hilarious.
What makes The Jackbox Party Packs so great is the fact that only one person needs to own it — and it doesn't even have to be you. Anyone can join as long as they have an internet connection and a mobile phone or any other device to access a browser.
If you're not the one that owns the game, you must be the first to join the lobby so you'll be the lobby leader. Remember to ask the game owner to change certain settings like making the game family-friendly to avoid getting in trouble with Twitch terms of service.
If you do own the games, it's good to remember to change your settings around so you can hide the lobby code. That way, you can whisper or DM it to only the people you trust, effectively preventing trolls from joining in.
And if you want to buy these games on Steam, here are the Steam links:
You can also purchase Jackbox Party Pack games in bundles, such as the trilogy.
2. Words on Stream
Play Words on Stream on Your Browser
Words on Stream is by the same company that created Gartic games. It plays similarly to Gartic on Stream, except this time it's all about words and letters.
Like Gartic on Stream, Words is a game you can play entirely through your browser. All you have to do is connect your Twitch account to the Words on Stream website and press start. And of course, you'll have to capture your browser window on OBS so your stream can see.
When you start your Words on Stream game you'll be given a scrambled word like below. Viewers can make one guess per segment of the bar, totalling six guesses in all. The words appear in alphabetical order, so players can use that as clues for what letters the missing words start with.
You and your chat will need to score enough points to qualify for the next level. As you get higher and higher in level, things get more difficult with fake letters and hidden letters.
3. Drawy
Drawy is an affordable game you can buy on Steam and play with your Twitch chat.
Once you boot up the game and set it up on OBS, you can start playing with your viewers. Playing is simple — you get a random word to draw. Viewers can guess what you are drawing at any point (although there is a timer per round). You can skip words that you don't want to draw.
Viewers can guess the answers by typing into your chat. Next round starts automatically when someone makes the correct guess.
4. Marbles on Stream
Marbles on Stream is a free-to-play online game available on Steam. Its premise is very simple — it's a racing game, but with marbles!
As a streamer, you can simulate a race yourself and show it happening on your stream in real-time. Viewers can join the race in a number of ways, giving them a marble with their name on the track. Viewers can join by typing a command in your chat or by playing through the Marbles on Stream app on mobile.
Marbles on Stream has a few modes to choose from. You can even build a map and upload them for everyone to use. Right now, Marbles on Stream is one of the most popular games with Twitch integration — streamers worldwide love sharing this game with their communities.
If you want to make things interesting while you play Marbles with your Twitch chat, you can commentate races as they occur. Hype up races as much as you would like, create incentives for winning races, and more. Your only limit is your creativity.
Many streamers create mini Marbles on Stream tournaments that viewers can participate in to win prizes on stream like getting VIP in a streamer's chat. As a streamer, you can even start predictions on who will win or place and have people "gamble" with their channel points.
With everything that you can do with this game, it comes as no surprise that it's one of the most popular games to play with chat. It also comes as no surprise that this game can build communities in no time!
5. Chess +
Everyone knows what Chess is. And with larger content creators streaming their chess matches, more and more people are picking the brain sport up.
Chess is a game you can play for free, as long as you have a chessboard or some sort of chess game on your computer or phone. However, it's much easier to play and stream it online through Chess.com, where you can play it for free. You can play against someone around your same skill level online, or you can play against the computer instead.
You might be wondering just how Chess can integrate into Twitch and allow your viewers to play along. The answer is simple — they can join through the Vote Chess extension, which allows them to vote on the next moves you make.
6. Move or Die
If you're a fan of fast-paced games, Move or Die is the game for you because when we say fast-paced, we mean the mechanics of the game change every twenty seconds. It's a 4-player game that you can play locally or online.
In this game, players need to be constantly moving their characters to stay alive — otherwise, their health will drain and they can internally combust.
Move or Die integrates with Twitch through its Twitch mode, allowing viewers to directly influence games' outcomes. Once the mode is enabled, viewers can vote on game modes, game modifiers, and more! What ends up happening is players need to contend with complete and utter chaos and nonstop insanity. Honestly, sounds like the perfect way to play with Twitch chat, if you ask us!
Move or Die is available on PC, Mac, Linux, and Playstation.
7. Dead Cells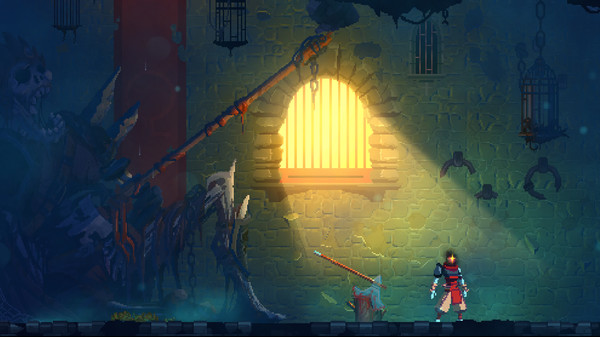 Dead Cells is a 2D rogue-lite metroidvania game with amazingly beautiful art. Here, you explore a forever-changing castle — but you will have to fight your way through.
The 2D souls-lite combat is challenging and fun, keeping you engaged, especially since there are no checkpoints to speak of. You die, you start over!
You might have already guessed that this game is entirely single-player. So how exactly does Dead Cells integrate with Twitch and just how can your viewers participate?
When you play Dead Cells in streamer mode, your viewers can help you out (or sabotage you) by giving you gear, stat boosts, and voting on the next area for you to explore. They can also spawn new enemies, cheer, taunt, and even play as an in-game character called Captain Chicken.
Dead Cells is available on PC, Nintendo Switch, Playstation 4, and Xbox One — and they're currently working on an Android app.
8. Ring of Pain
Ring of Pain is a card crawler that also happens to be a roguelike. Decisions are very high risk versus high reward, which makes it fun for viewers to chime in.
When integrated with Twitch using the official extension, Ring of Pain offers two features to allow viewers to join in:
Allow the audience to choose items and stat boosts
Allow viewers to draw new artwork for enemy cards during encounters, which can result in utter hilarity (just remember to tell your chat to keep things TOS!)
9. GeoGuessr
Play Geoguessr on Your Browser
GeoGuessr has been around for a while now, and it's certainly gained a certain level of popularity with streamers and their chats.
If you haven't heard of GeoGuessr, it is a browser-based game where you have to guess where you are on the planet. When you start the game, it will drop you somewhere random (or somewhere within a certain category, depending on the game mode you selected). You can navigate through the map by clicking around. You can also zoom in to see smaller details like the text on signs. Once you've gotten enough information, you can submit your guess — just hope you don't get put in the middle of nowhere!
Viewers can join in by helping you guess where you are. Alternatively, you can use the Chatguessr bot by integrating it into your chat. This will allow viewers to play the game alongside you, earning their own points by making their own guesses. No GeoGuessr account is required!
You can use GeoGuessr for free, but you can also pay for a subscription that entitles you to more features.
GeoGuessr is also available on iOS and Android. If you have an account, you can also use it on these platforms! However, your viewers will not be able to participate (unless you are using a capture card to capture your mobile devices' screens).
10. Gartic on Stream
Play Gartic on Stream on Your Browser
Gartic On Stream is an excellent game to play with your viewers. It requires zero downloads — all you need to do play it on your browser and capture your browser window on OBS.
GoS is a version of Pictionary, but without the drawing. Instead, players can simply guess what the images are on the screen as they watch them get drawn in real time.
There are nine drawings on screen. As viewers guess each drawing correctly, another drawing takes its place until the timer runs out. Each level is more difficult than the next, requiring more points to qualify for the next round.
To play this game with your chat, all you have to do is connect your Twitch account on the GoS website and press "start."
11. Gartic Phone
Yes, another Gartic game!
This time, Gartic Phone combines Pictionary with the childhood game "Telephone" — you know, the game where players whisper something to one person after the other then compare the ending phrase with what was whispered originally. However, Gartic Phone changes it up a little bit — instead of guessing what you heard, Gartic Phone turns it into the visual version. You draw whatever you see, and then you guess whatever you saw!
Needless to say, it's a fun party game that many streamers are starting to pick up on and play with their viewers. The play cycles between drawing something and then guessing what the drawings are.
This game is best played with everyone in Discord calls, which makes it a better option for community nights and similar streaming events. To play with your viewers, create a lobby and give them the lobby code so they can join in.
*Unlike Gartic on Stream, Gartic Phone doesn't necessarily integrate with Twitch in the same way. However, it does provide an excellent way for viewers to participate.
12. Gartic Show
Play Gartic Show on Your Browser
Yes, one more Gartic game — the last one.
Gartic Show changes it up a little by making viewers guess what you, the streamer, are drawing. It's like Pictionary, but you're the only one drawing. We don't feel the need to elaborate further, but you can see the game's dynamics below:
Like all the other Gartic and Words games, Gartic.Show is 100% free and playable online through your browser. You just need to connect your Twitch account and capture your browser through OBS.
13. Choice Chamber
At this point in time, Choice Chamber is showing its age (it was released in 2015). But that doesn't make it any less fun.
This crowd-sourced action game hands Twitch chat the reigns, allowing them to help you make in-game decisions as they type in your chat. You're asked very rapid-fire questions, one after the other. How you or Twitch chat answers will shape how you experience the game.
14. Ultimate Chicken Horse
Ultimate Chicken Horse on Steam
If you're a fan of party platformer-type games, Ultimate Chicken Horse might be right up your alley. In this game, you build the level as you play.
To win, you must reach the end goal first — and to increase your chances of getting there first, you must sabotage your friends. But beware, because they'll be sabotaging you too!
Ultimate Chicken Horse integrates with Twitch through voting. The audience can type specific keywords and vote for blocks appearing in the party box.
15. Da Twitch Charades
Play Da Twitch Charades on Your Browser
Da Twitch Charades is exactly what it says on the tin. With this game, you can play charades with Twitch chat!
Playing is easy. All you have to do is visit their website and connect your Twitch account. It will then take you to the next page, where you can select from a number of options.
Ticking the options on the screenshot on the right will allow you to choose which categories you'll get words to act out from. There are tons of categories, so you'll never be at a loss for options. Once you start, you'll be given a word that you'll have to act out. Twitch chat can make their guesses within a certain window of time.
Unfortunately, at this moment, this game only works on Google Chrome and Mozilla Firefox.
16. 7 Days To Die
7 Days to Die is a fully-fledged Zombie apocalypse survival game with Twitch integration. You will play as a survivor who must gather resources such as weapons, tools and shelter to survive.
So, where does Twitch chat come into play? Well, viewers can earn "Pimp Points" by interacting in chat. They can then spend these points to spawn vehicles, tools and supplies to help you or spend their points to spawn even more enemies. Let's be honest, they're probably going to make things harder for you.
Don't be too worried as there are cool-down periods built-in to ensure chat doesn't spam a thousand zombies around you.
What Are Games That Integrate With Twitch?
Twitch-integrated games are created specifically to allow viewers in your chat to get involved in your gameplay. Games offer varying levels of involvement to viewers, with some being as simple as asking viewers questions and others as full-on as having viewers actually play the game with you.
Here are some examples of activities viewers can enjoy from games that integrate with Twitch:
Answering polls or voting for the next decisions you're about to make in your game
Trigger new obstacles and make the game more difficult for you
Actively play in your games just through Twitch chat or mobile chat
Although many Twitch-integrated games function entirely from your Twitch chat, there are some that might require you an additional thing or two. For example, there are games that require a Twitch extension to function properly. Others, on the other hand, might require viewers to hop on to a secondary website to play. Unfortunately, when it comes to games like these, it can be difficult for viewers on mobile to participate.
It's worth mentioning that most of the games on this list require only you, the streamer, to actually own them. Viewers won't need to buy the game, which makes it even better — they can participate regardless!
Wrapping Up
There are tons of ways to engage your viewers on your stream, but nothing is quite as fun as actually playing games with your chat. Gaming with chat is all well and good, but there are certain limitations — not everyone may own the games you're playing.
Thankfully, Twitch-integrating games exist to help bridge the gap and bring you many more options for viewer entertainment.
We hope that you find something fun to play with your chat on this list!
Read More on Get On Stream: