When you first start streaming, you might feel a bit overwhelmed by all the tools and assets available at your disposal.
In the early days of streaming, not even a decade ago, many streamers had to be resourceful and creative if they wanted to do certain things on their streams. These days, this is no longer the case — there are now so many tools that make streaming easier, more convenient, more fun, and just better all around.
One such tool in a streamer's arsenal is the Twitch Extension.
What Are Twitch Extensions?
According to Twitch themselves, extensions are live apps that interact with a stream in one way or another. They often do one or more of the below:
Act as Twitch panels
Interact with chat
Interact with a streamer's game
Act as mini-games
Function as leaderboards
Trigger sound effects
Display stream gear and information
Show information about music
Social media integration
When used appropriately, Twitch extensions can build and strengthen communities, create new ways to interact, and even monetize. That's right — as a streamer, you can make money using certain Twitch extensions.
Nowadays, there are so many extensions available to install and use. So many, in fact, that it might get confusing or intimidating to sift through all of them.
To help you out, we have put together a list of the 21 Must Have Twitch Extensions.
Quick Links
Best Twitch Extensions for Viewer Engagement
GIPHY
GIFs have always been a fun way to express your thoughts and feelings in a more relatable manner. They've always been sorely missing on Twitch, but now you can get them back through the extension.
Installing the GIPHY extension will allow your viewers to display GIFs and stickers to a section of your stream that you set beforehand. That way, you can choose a section that's out of the way and won't cover anything important.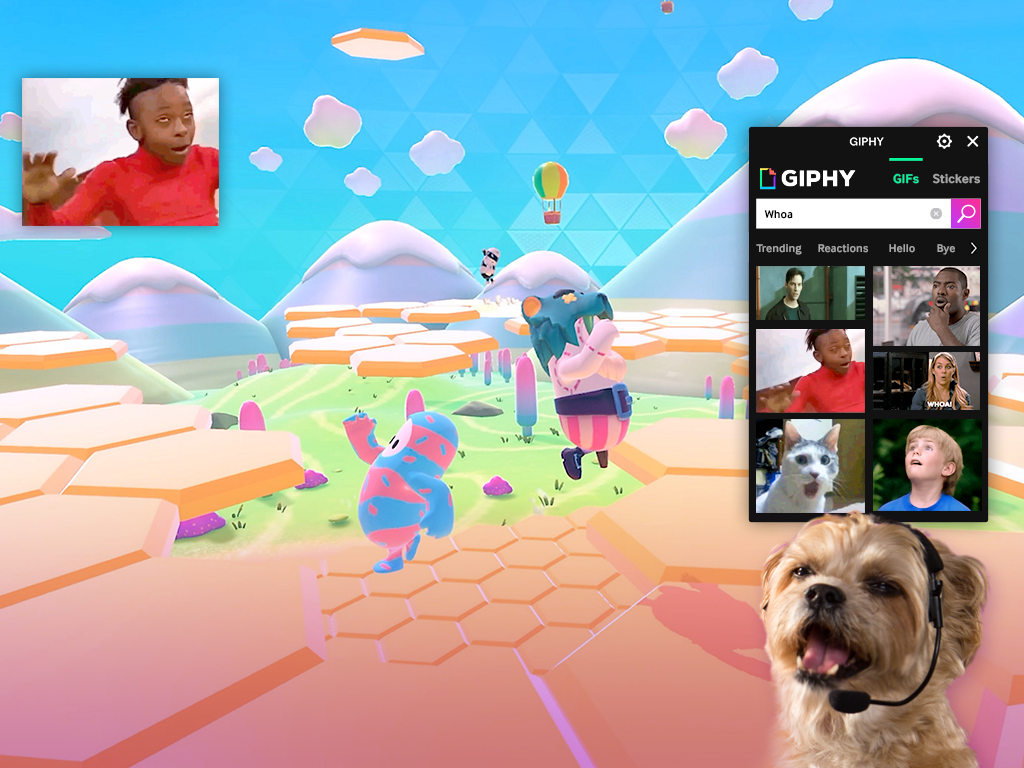 If you're worried about the content your viewers might choose, there's no need to — the content on the extension is curated, allowing only PG (or below) rated stickers and GIFs. No messing around with Twitch TOS here!
Stream Stickers
Stream Stickers is a way for viewers to engage with your channel while also allowing you to monetize your stream.
This Twitch extension allows your viewers to slap a sticker onto your stream. They've also recently added the ability to play sound effects right on your stream! You can choose from pre-existing stickers or you can create and upload your own stickers and sound effects. It works on mobile and allows for plenty of customization.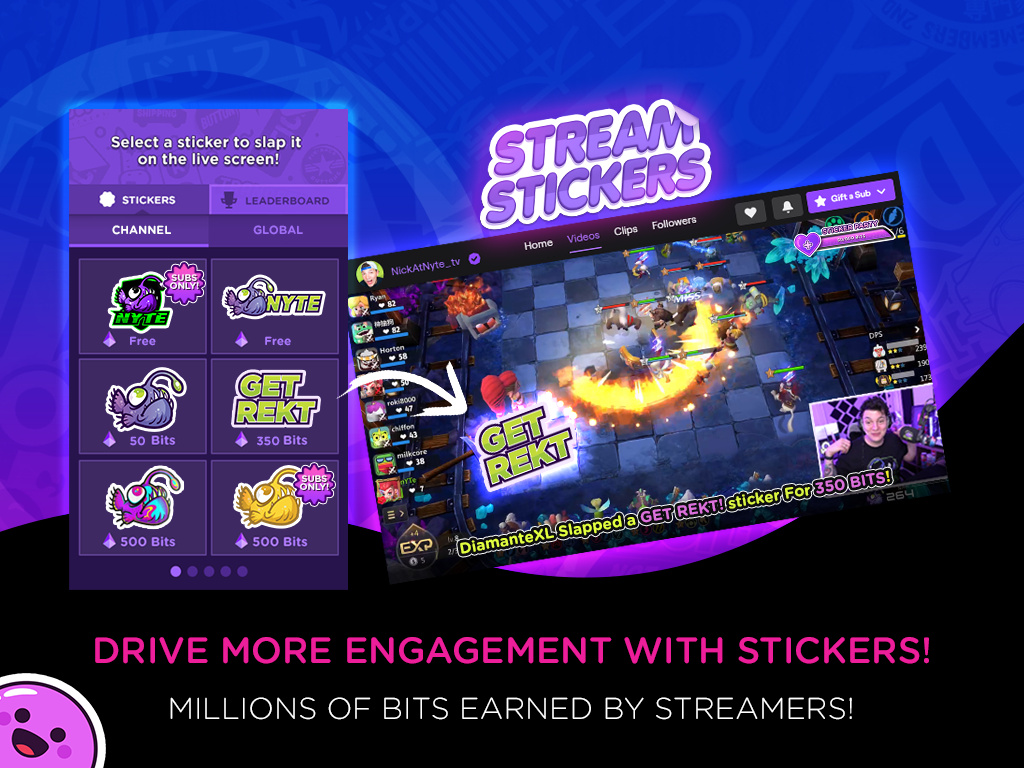 You can have the stickers be free to use or set prices (using bits). There are also unlockable stickers and other events that can make engagement more fun overall. To encourage people to subscribe, you can set some stickers to be sub only.
Stream Stickers is compatible with OBS, Streamlabs, Xsplit, and more.
Say It Live
Say It Live is a Twitch extension that basically allows viewers to trigger a text-to-speech/TTS audio alert by donating bits.
Unfortunately, its popularity has dwindled these days considering many of the tools available now such as Streamlabs and Stream Elements already have built-in text-to-speech alert options. However, if you aren't using TTS elsewhere, you can take advantage of this extension!
Best Twitch Extensions for Mini-Games
Stream Avatars
Stream Avatars is a fun little mini-game where viewers in your chat can choose to participate. Viewers can choose what avatar and gear they can use, and they can also interact with each other. Their avatars are shown on the bottom of your stream, moving around and interacting.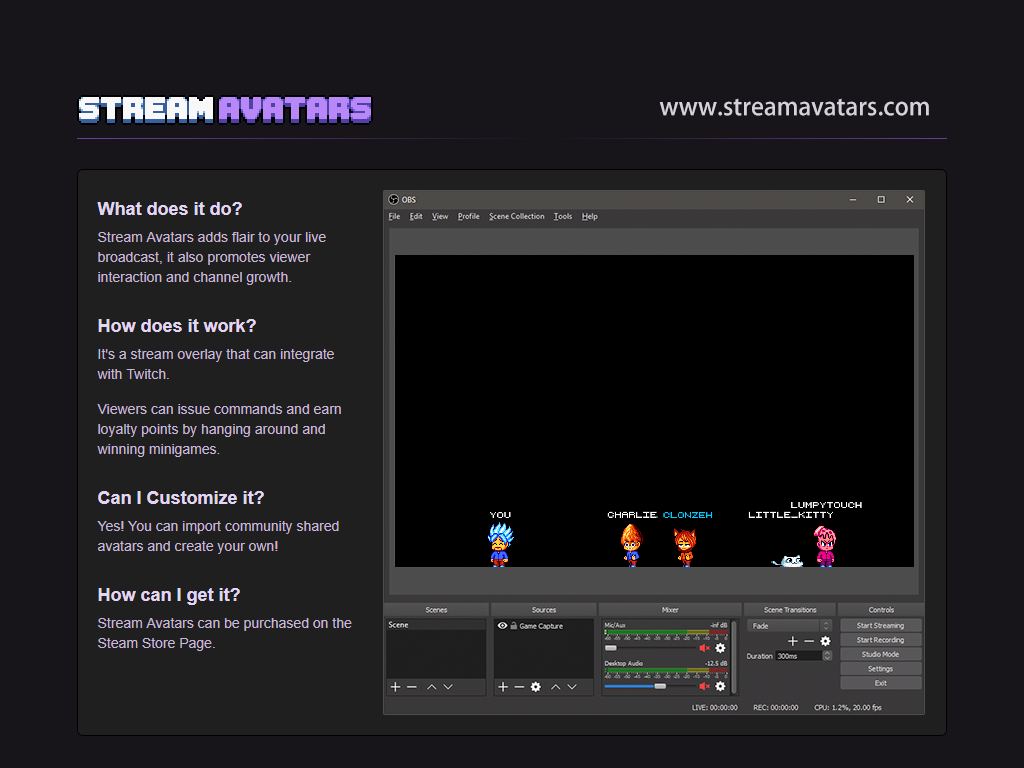 Unlike some Twitch extensions, Stream Avatars is not free. You must purchase it on Steam before you can enable it on your stream. Once you enable it, you must also put it in your Twitch panels so viewers can start interacting with it.
Stream Avatars can help build engagement and viewer loyalty. However, one negative thing about it is it can make your stream look busy and cluttered. It can also be distracting, so you may have to pick and choose when you want to enable or disable it.
Stream Minigames
Stream Minigames is a great way to keep your viewers engaged while you're taking a break or stepping away from a computer. However, you don't necessarily need to be taking a break for you and your viewers to enjoy this extension.
Stream Minigames has cooperative and competitive minigames that your viewers can play on top of your stream. If your viewers feel like unlocking in-game items, they can use bits — so yep, you can monetize!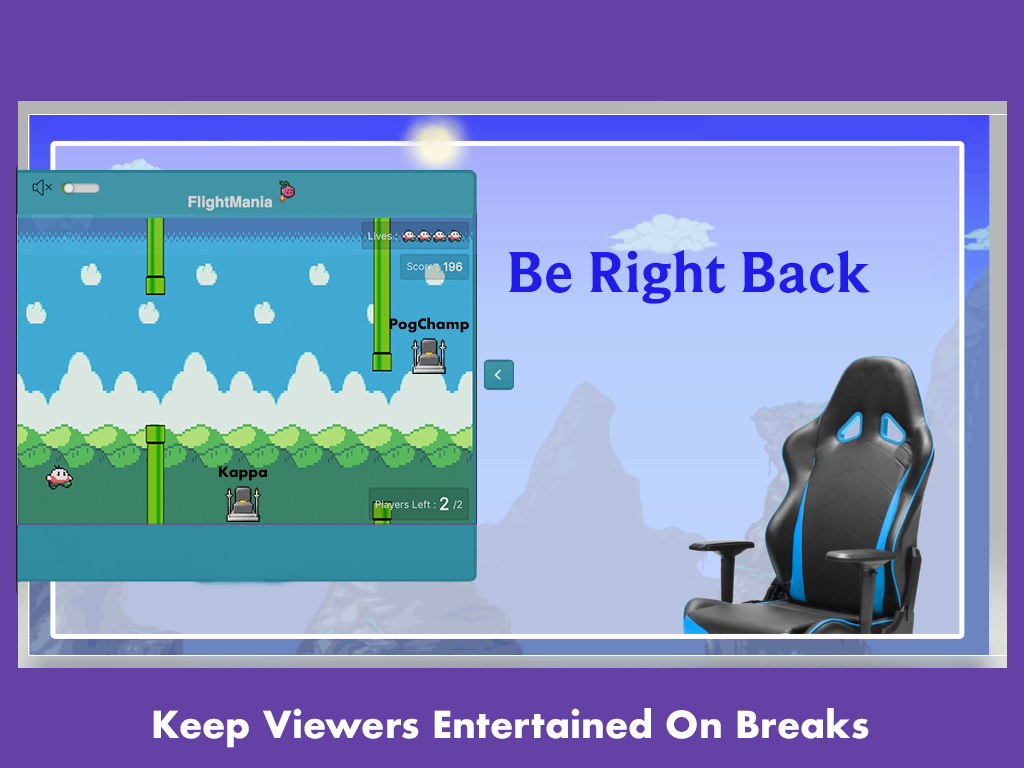 According to the developer, new games are always being added. The best part is you or your mods can directly launch the minigame from Twitch — no OBS plugin or app configuration required. They also just made it playable on mobile!
Dragon Pets
Dragon Pets is a minigame that helps boost viewer engagement because it allows you and your viewers to grow and breed adorable creatures. Viewers can use channel points and bits (yay, monetization!) to do things like feed and breed their creatures, battle your pet, and play TTS messages.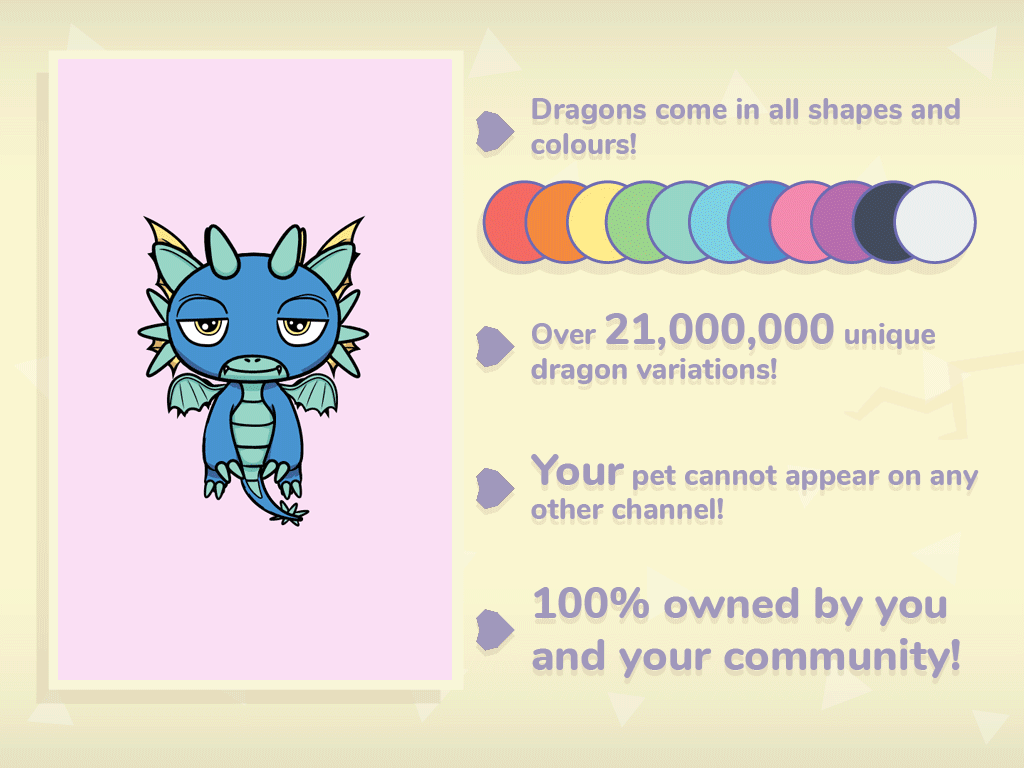 Viewers can interact with the panel on your channel to customize their dragons and do everything else. To allow the dragons to show up on your stream, you'll have to add an overlay through your broadcasting software.
Every dragon created on your channel is absolutely unique and won't ever be seen on another channel. You can turn your dragons into emotes through the dragon-pets emote maker.
Best Twitch Extensions for Sound Alerts and Effects
Blerp
Blerp is a Twitch extension that allows viewers to send sound effects and sound alerts to your stream.
You can create your own soundboards by choosing from Blerp's library which has over 1 million sounds (all licensed and DMCA-free!). You can even create a soundboard from your best and most-viewed Twitch clips.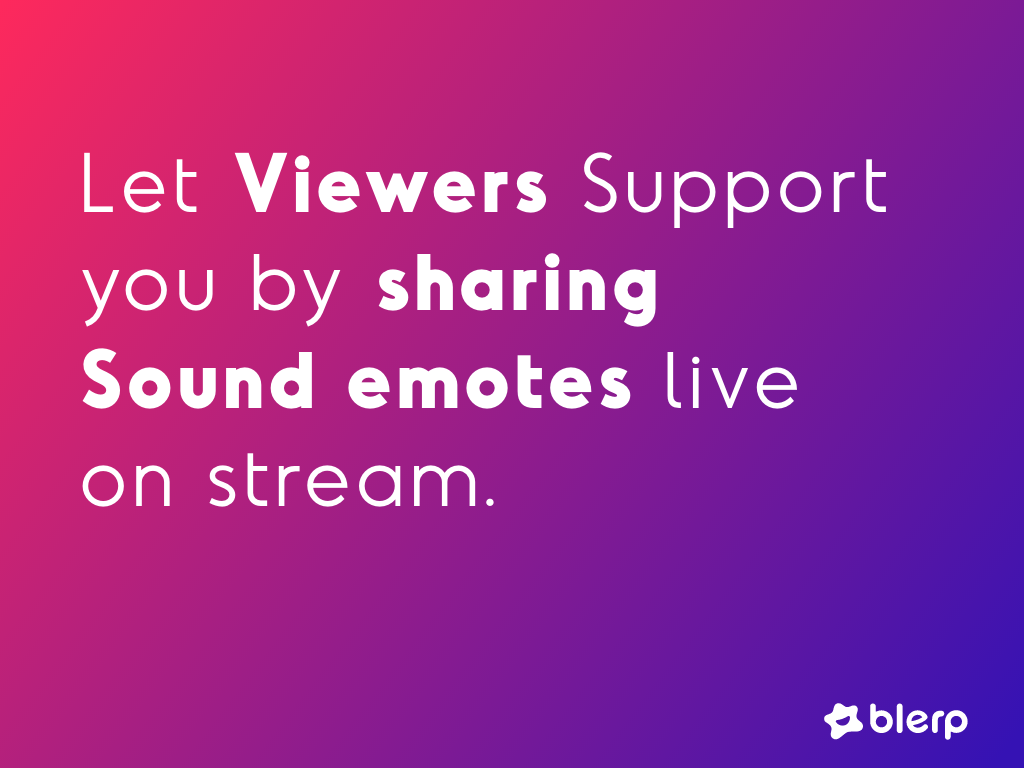 Blerp is customizable and you can choose settings like the rating, cooldowns, and the bit cost. You can also set some subscriber-only sounds, and subs can also set their entrance sound effects to announce their arrival. Blerps can also be shared using channel points if you set it that way.
This extension works with all broadcasting software.
Sound Alerts
Sound Alerts is a Twitch extension developed by Altoar, who recently popped up on Twitch's top 100 income earners in the October 2021 leak. He made nearly $3M from Twitch from late 2019 until the leak occurred, and he made it all from Sound Alerts.
Sound Alerts allows viewers to play sound effects on your stream, effectively boosting engagement. You can allow them to play sound effects for free, with channel points, or with bits if you'd like to monetize.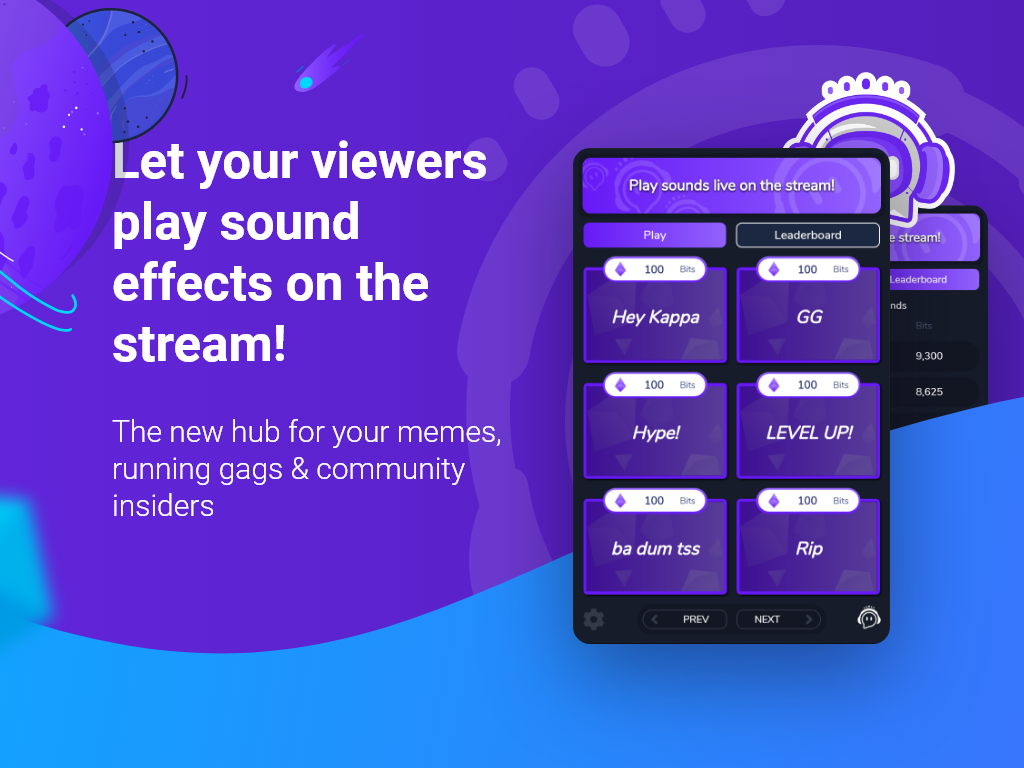 You can set sub-only sound effects and choose which sound effects you'd like to include. You can also set the price. If you want the panel to suit your stream branding more, there are limited customization options available.
Tons of streamers use Sound Alerts for jump scares, celebrations, and other interactable moments. To use it, you'll have to set up a Twitch panel and an overlay on your broadcasting software.
Best Twitch Extensions for Social Media Integration
Twitter Timeline
If you use Twitter often or you have a Twitter account just for your stream, you might benefit from using the Twitter Timeline extension in your panels.
This extension created by Grab Labs allows you to showcase your most current tweets. You can embed a timeline into your Twitch panels, and it's a dynamic one too — it supports images, videos, retweets, GIFs, links, and the choice between light or dark theme.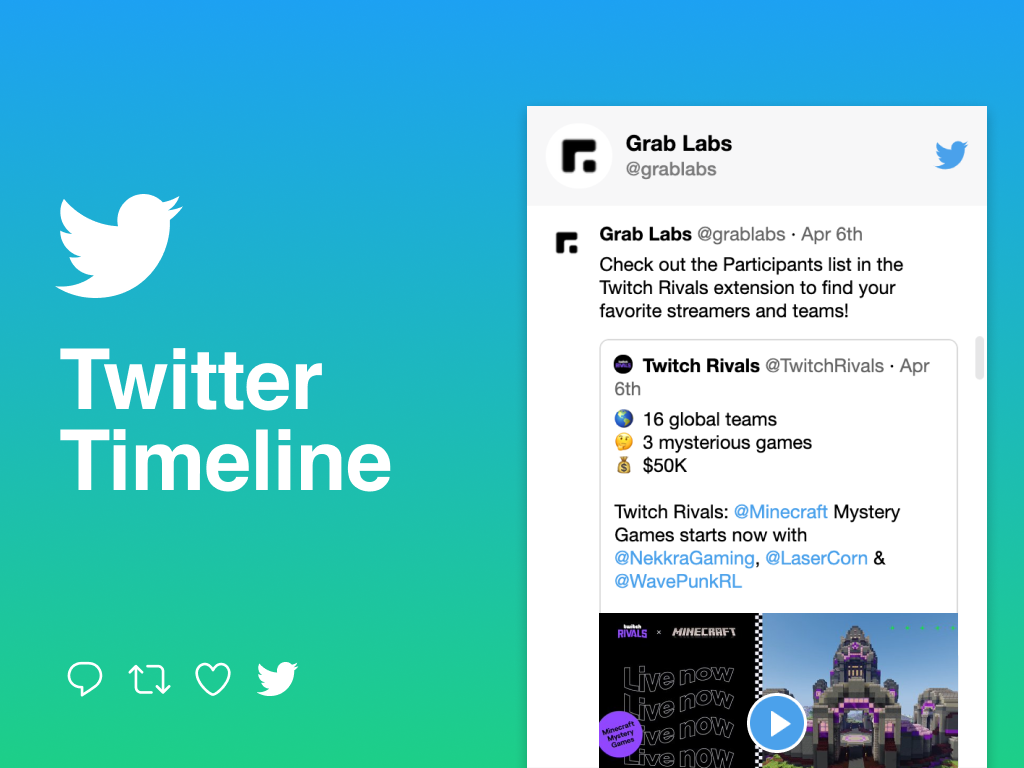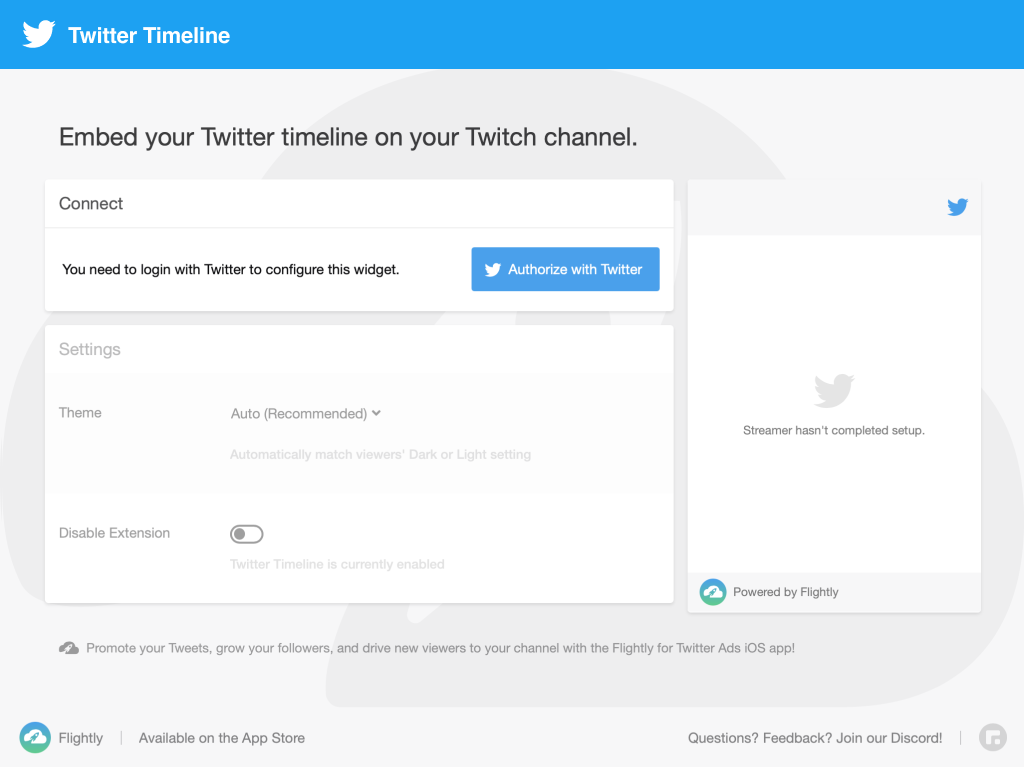 This extension is powered by an official Twitter partner, Flightly.
My Instagram
Instagram is also another huge social media platform that many people love using — streamers included. If you want to show a bit of a peek into your life via Instagram, you can embed your timeline right into your panels with My Instagram's Twitch extension.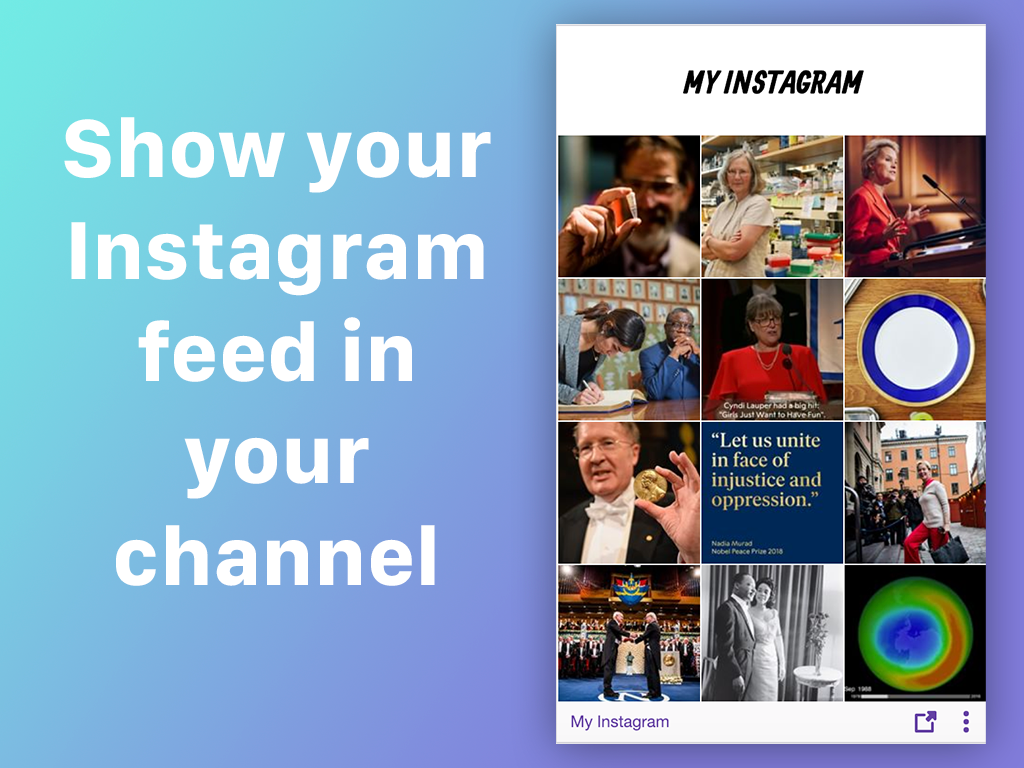 This extension displays the most recent posts on your Instagram timeline so your fans see without leaving Twitch. However, your account will also be linked so your viewers can click and take a look whenever they want.
Instagram Feed
Instagram Feed is a much simpler version of My Instagram. It also displays some of your feed, with a beautiful panel to show all of it off with.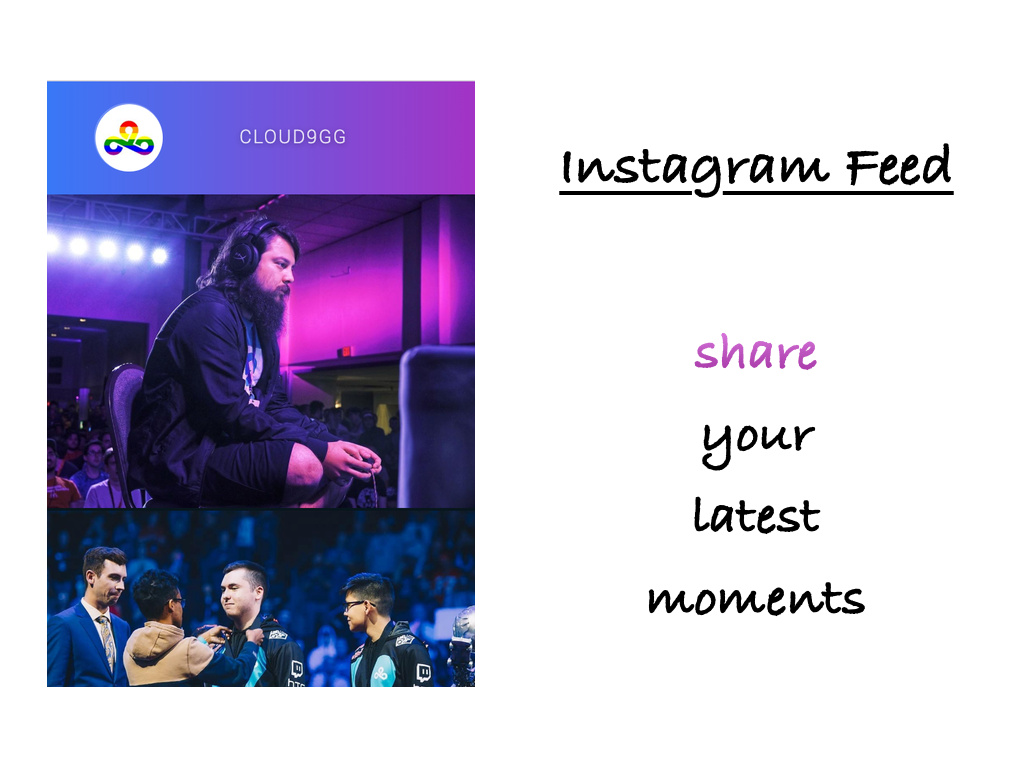 Best Twitch Extensions for Music
Spotify Now Playing
Spotify Now Playing does exactly what the name says — it allows you to display the song that's currently playing on your Spotify. You will no longer have to field questions about what song is playing when you're trying not to die in the game you're playing!
Unfortunately, you'll have to be more mindful to play only DMCA-safe music so that you don't find yourself getting copyright strikes on your channel. Some people don't care about it too much and will risk it, so in the end, it's your decision to make.
Noteworthy Mention: Pretzel.Rocks
Pretzel.Rocks used to have a Twitch extension through viewers can song request copyright-free music. However, they have recently taken it down as they are currently working on a new and improved version.
We mention it here anyway because Pretzel.Rocks is one of the largest depositories of DMCA-free music and is a fantastic resource for streamers. Keep an eye out for the new Pretzel.Rocks extension coming soon.
Best Twitch Extensions for Graphics and Emotes
Own3d Design Panels
Own3d Design Panels (Free & Animated) allows streamers to have more control over the look of their channel. This extension helps streamers build a well-designed channel that can make a great impression on not just first-time visitors but long-time viewers as well.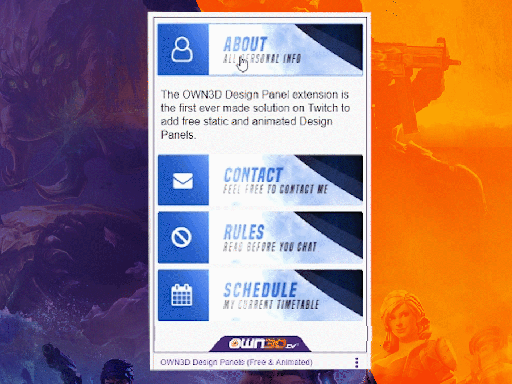 Using this extension is absolutely free, and it is the very first one that allows you to have animated panels on your Twitch page.
This is still in its infancy. According to Own3d's CEO, the extension is currently in beta and they are working tirelessly to keep adding more features over time.
Emotes Showcase
Emotes Showcase does exactly what it says on the tin — it showcases your emotes.
This extension displays everything — and we mean everything. It'll show your follower emotes, tier 1/2/3 emotes, bit emotes, and even the emotes you have on BTTV and FFZ.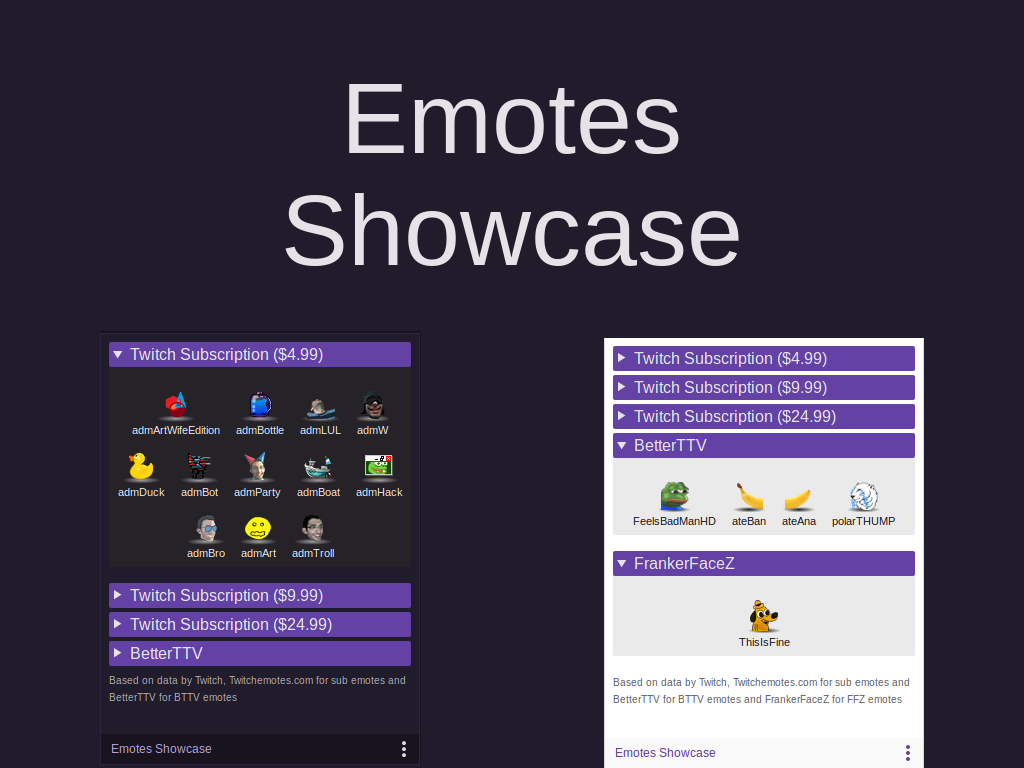 You'll never have to think about updating it either, since it will grab new emotes on its own whenever you make any changes.
Emotes Showcase is customizable, and you can choose between light and dark mode. Other settings you have control over are which sections are shown, which section is automatically expanded, and more.
Xeke's Affiliate Emote Panel
Like Emotes Showcase, Xeke's Affiliate Emote Panel displays your emotes so that viewers know what they can get from subbing to you at a glance. However, it does also show other things such as your subscriber badges, bit emotes, and bit badges.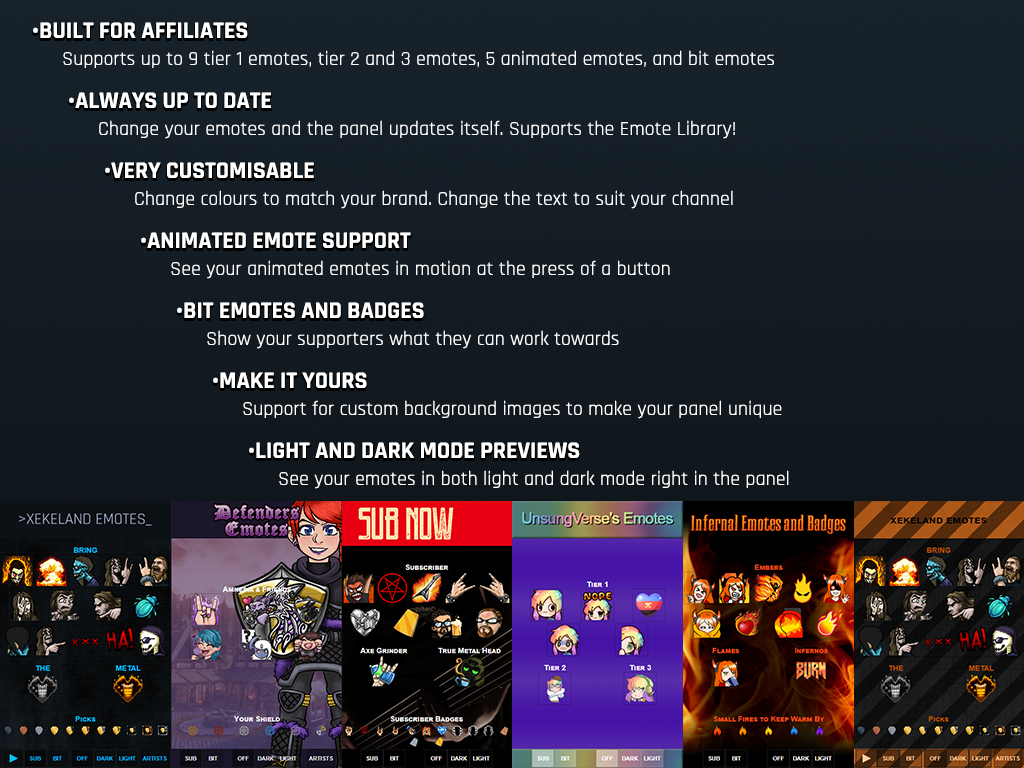 This extension was built specifically for affiliates, supporting nine tier 1 emotes, 1 tier 2 and 1 tier 3 emote, five animated emotes, and your bit emotes. You can choose between light and dark mode.
If you're a partner, you may want to look at Emotes Showcase instead as you won't be able to display all of your emotes with Xeke's Affiliate Emote Panel extension.
Best Twitch Extensions for Followers and Subscribers
Prime Subscription and Loot Reminder
With Prime Subscription and Loot Reminder, your viewers can click on the floating extension button to use their Prime subscription on your channel. If their prime isn't ready or they don't want to use their prime, they can simply dismiss the button for the rest of the stream.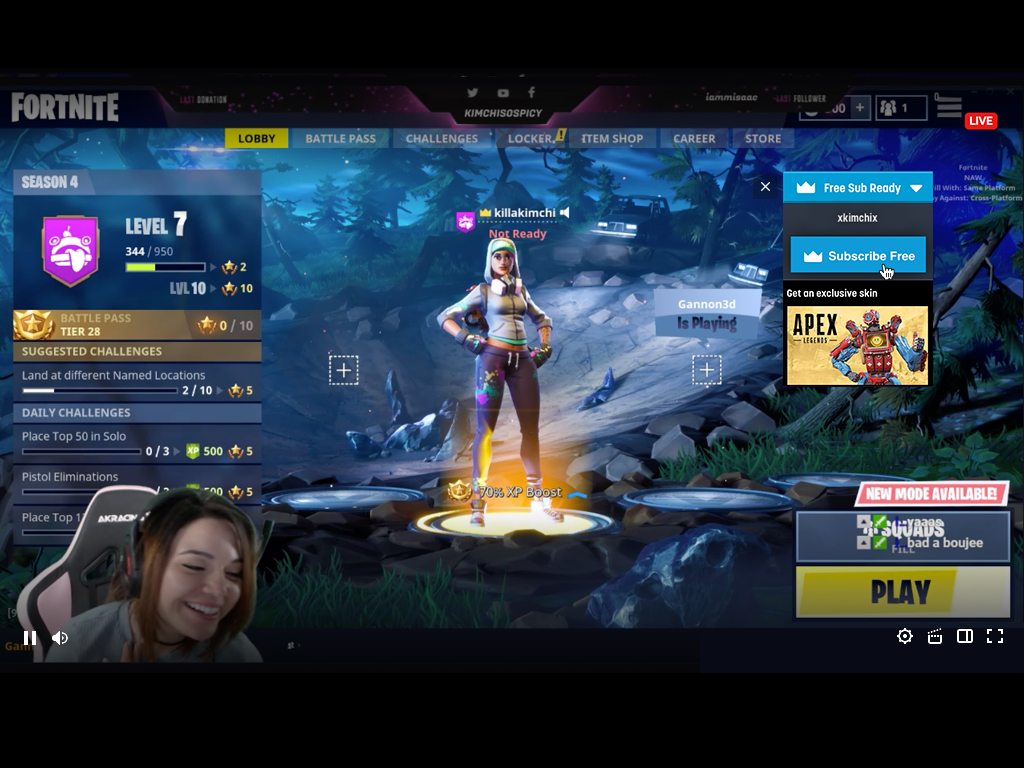 As in the screenshot above, this extension appears as a button overlay on your stream. When viewers click the button, a dropdown appears to allow them to either subscribe for free and see any other Prime benefits available at the time.
StreamElements Leaderboards
StreamElements is a name many streamers know. They make any amazing tools for streamers to use, and the Leaderboards extension is just one of them. You can add this extension to your Twitch panels to have it display various information.
This extension celebrates your top viewers and chatters, which can help you grow engagement on your stream by giving viewers something to strive for.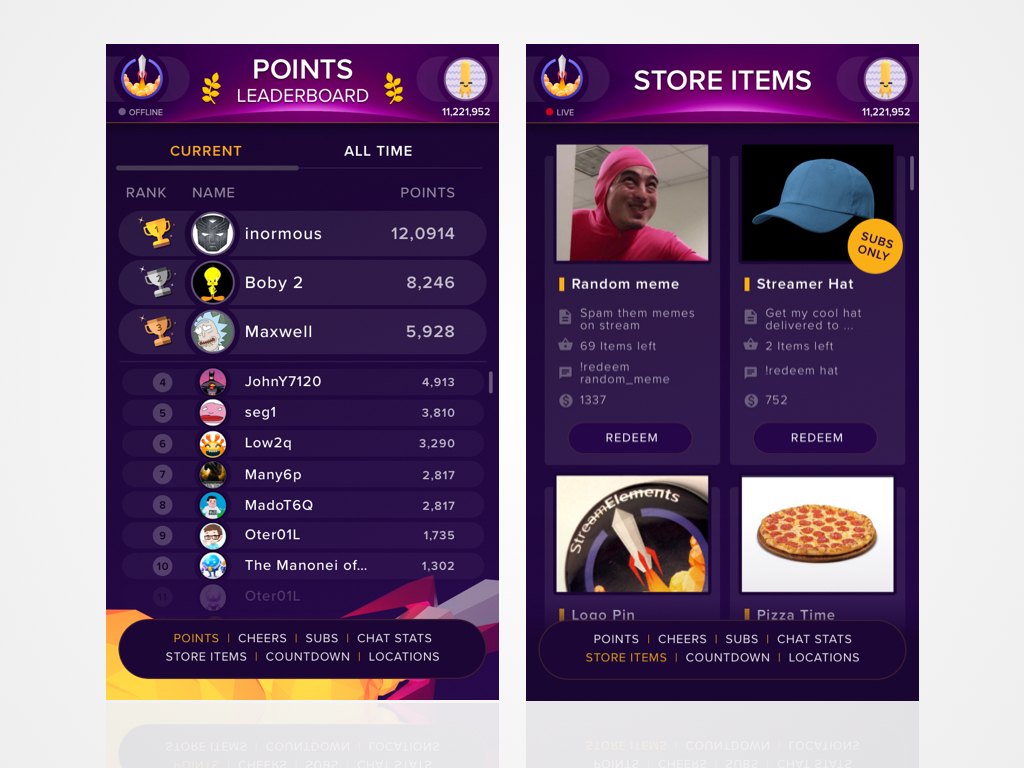 This extension displays highest channel points, cheers, subs, chat stats, store items, stream countdown timers, and viewer locations.
Streamlabs Leaderboard
Streamlabs is another company that makes plenty of tools for streamers, with their leaderboard extension just being one of many. Much like the StreamElements version, this one also displays some information about your stream.
This leaderboard focuses mainly on showing your bit cheers and loyalty points. If you don't have loyalty points enabled, it only displays your bit cheers by default.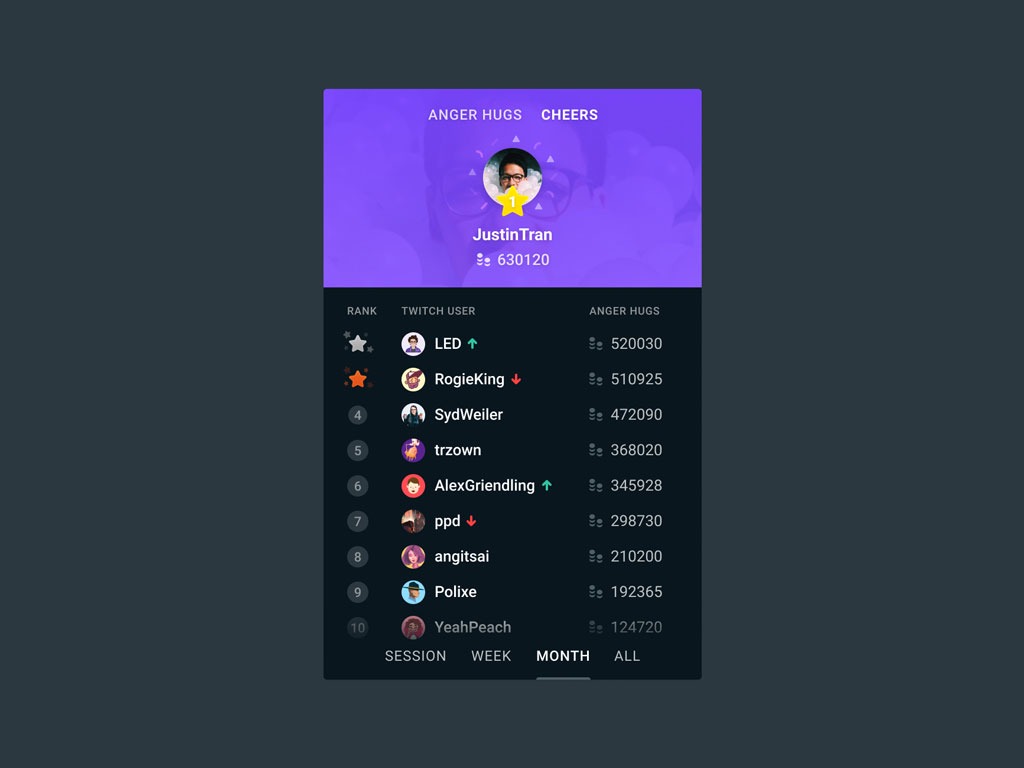 Viewers can organize information by session, week, month, or all-time. As a streamer, you can choose between light and dark mode.
Subscription Gifting Leaderboard
Subscription Gifting Leaderboard is a Twitch extension that displays the highest sub gifters on your channel.
Because it is currently in beta mode, it does not offer many features yet. However, the creator of the extension states more features are currently in development.
By default, the extension shows the "all-time" highest gifters from the time you first add this extension to your panels. If you would like to display previous sub gifts, you'll need to manually add data.
Latest Followers
As you might expect, this extension displays your latest followers via a panel for your page and an overlay for your OBS (you are not required to use this overlay).
It displays the newest followers' usernames and a tiny thumbnail of their Twitch profile pics. It also shows a total of your follows for the day since you started your streaming session.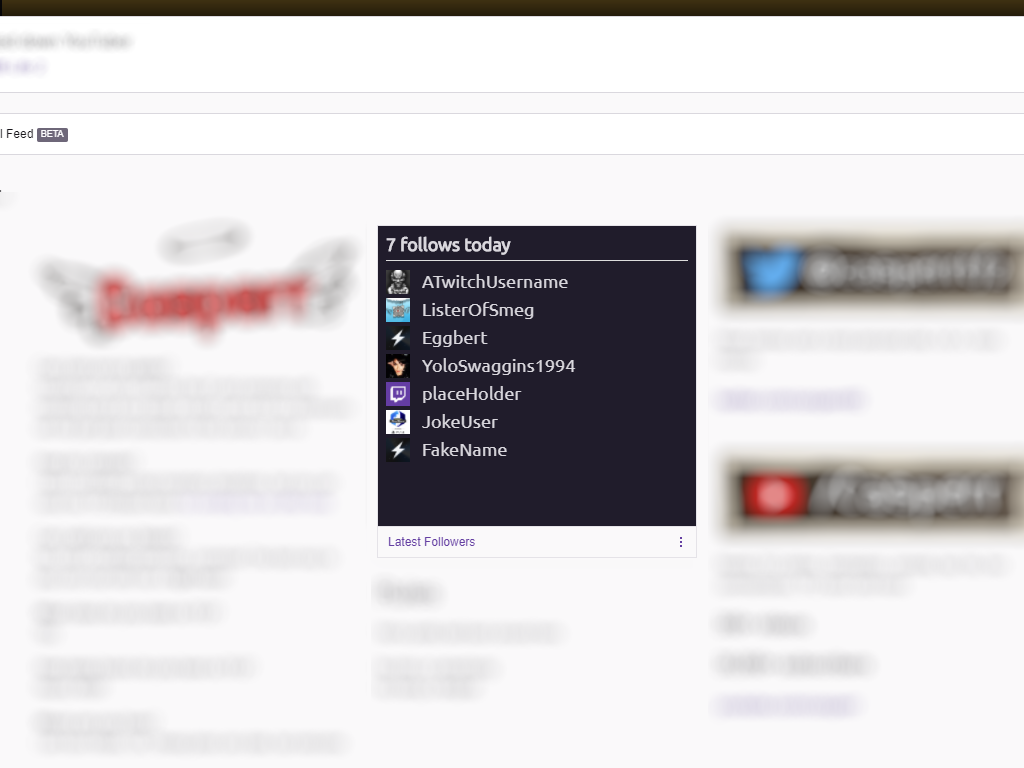 One neat feature about this extension is it integrates into your Twitch live dashboard, so you can have the information there if you want to shout new followers out.
Exclusive Content for Subscribers
If you want to display exclusive content for your subscribers without going to other websites like Patreon, you can use this Twitch extension. Only subscribers will get to see your content such as videos, images, and any posts you create. All of this exclusive content shows on the panel.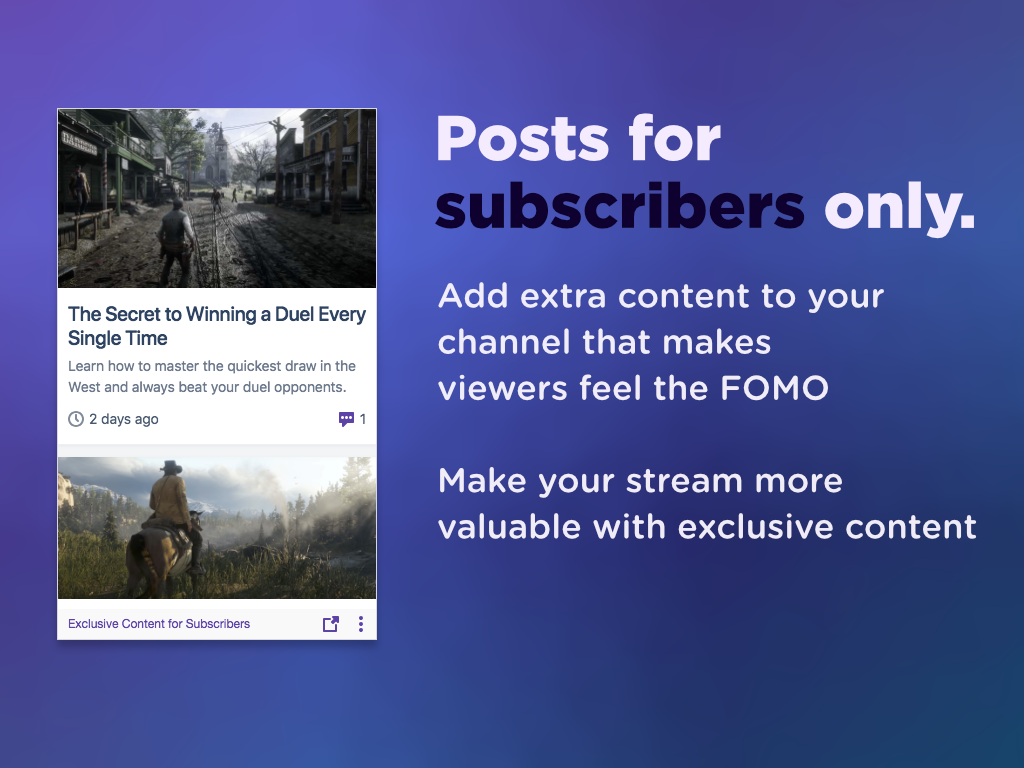 Of course, you'll need to stay within the Twitch ToS!
Wrapping Up
Extensions aren't necessary, per se, but there's no denying how much value some of them can add to your channel. We hope that this list we've curated can help you figure out a starting point so you can pick the extensions that work best for you!