A lot of people might shy away from following their dream of streaming because they only have a console or their computer isn't powerful enough to run video games. They may even feel incredibly disappointed that they might need to save up a ton of money for a gaming PC before they can even get started. However, this is not always the truth. The good news is you're not 100% out of luck if you have a console!
Streaming on any platform might seem like an impossibility when all you have is a basic computer and a console — or just a console! However, it's really not all that impossible (except in some cases). And it's really not that difficult at all. Many streamers on Twitch and other platforms got their start by streaming with their consoles and eventually saving up enough to buy a PC!
If you want to start streaming and turn it into a hobby, a way to make new friends, or even a career, you can do it with the equipment you already have — provided they are capable of streaming, of course.
The Best Twitch Extensions to Use if You're a Console Streamer
Can You Stream Using Your Console?
The short answer is — yes! If you have a capture card and a computer capable of running/streaming with at least OBS Studio, then you should be able to stream using your console.
But you may be asking: Can I Stream Without A Capture Card? – [Answered]
If all you have is a console, you might still be able to stream using the console's native Twitch app. That means that if you have a recent enough Xbox (One or later) or PlayStation (4 or 5), you should be able to stream to Twitch.
What does that mean for those with Nintendo Switch consoles?
Unfortunately, if you have a Nintendo Switch, you will need a capture card and a PC capable of running OBS Studio. Nintendo Switch's native Twitch app does not have any streaming functionalities and all you can do is watch streams on it.
Manage Your Expectations
It might be important to let you know that although consoles can stream straight to Twitch, you may find yourself missing certain features.
When streaming on your console's Twitch app, the things you can do are pretty limited since the only things you are able to do there are change your stream title and choose your video quality. You won't have as many customization options, quality performance won't always be the best, and you may be limited in the cameras you can use as well as the cam/audio quality all around.
If all you have is a console, we recommend that you at least have your smartphone or tablet so you can read chat.
Additionally, some games by certain developers may include built-in features to block recording and streaming entirely. For example, Bandai Namco's Dragonball series and Atlas' Persona 5 have built-in features to stop their games from being streamed live after a certain amount of time — and there's nothing you can do to disable these features.
Best Setup for Streaming Using Console
If you really want to stream using your console, there are a few things you can do to make it easier on yourself. For example, you may want to invest in a basic laptop and a capture card to make it easier for you to configure your stream settings. The ability to mess around with your OBS settings can vastly improve your stream's quality overall.
You can check out our article on the 5 Best Capture Cards For Streamers – [Full Buyers guide 2022] to help you get started.
The Best Twitch Extensions for Console Streamers
Free Stream Alerts by OWN3D.tv
Free Stream Alerts is a Twitch extension by OWN3D.tv, a company that has created all sorts of tools and assets for streamers to use. This tool in particular makes it possible for those using solely their console or phone for streaming.
Most people know just how important it is to have alerts as a streamer. Alerts allow the viewers and chatters to get the recognition they deserve for following, subscribing, or donating bits. Raiders and hosters also deserve recognition through alerts.
As the name might suggest, Free Stream Alerts provides console streamers the ability to finally have alerts on their stream. Console streamers used to not be able to have any sort of alerts on their stream, but they are now possible thanks to this extension.
If you use this extension, you'll find that there are free stream alerts available. However, some of the designs are premium and require a monthly subscription fee to use. The good thing is, as long as you're able to set the extension up on Twitch.tv, you don't have to ever mess with it again (unless you want to change something). Everything is done and configured through the extension, so you don't need OBS or anything like that.
The downside is you can't upload your own designs, but at the very least they have some really good designs to make your stream look better and more professional. Plus, since the extension handles everything, your VODs will be clean and you won't have to edit them out if you want to upload your videos to Youtube eventually.
Exclusive Content for Subscribers
As a Twitch streamer, one thing you might always want is the ability to provide your subscribers with more benefits for supporting you. Additionally, you might want to have more reasons for people to potentially subscribe to you.
If you're a console streamer, you may be asking how exactly you can do that. Well, with the Twitch extension Exclusive Content for Subscribers, you can. Through this extension, you can promote a feeling of exclusivity and add behind-the-scenes content to grow your community.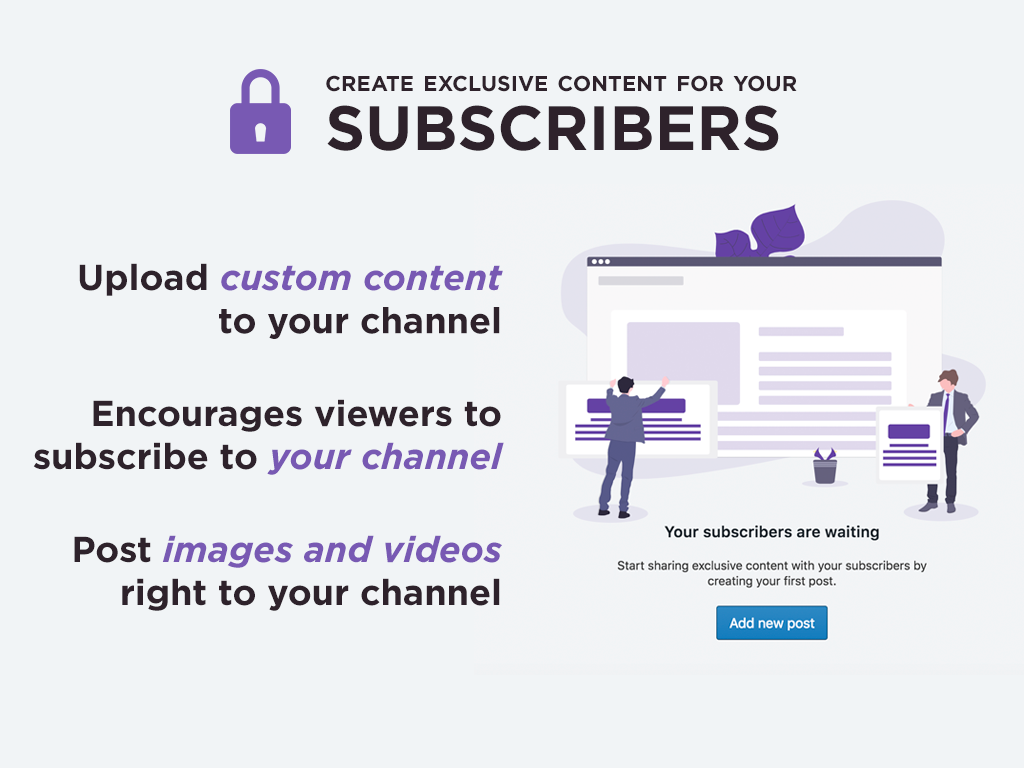 This extension allows you to upload custom content to reward current subscribers and entice more people to subscribe. First, you'll have to make sure that the extension is set up in your panels. Once it is, you can create and upload everything through the extension config, where they have a content builder.
In the content builder, you can upload members-only images, posts, and videos that your subs can see in your Twitch panel. Non-subs won't be able to see this special content. Instead, they get a message encouraging them to subscribe.
The extension also sends alerts to your chat every time that you publish new exclusive content.
Streamlabs Leaderboard
Streamlabs is a well-known name in the streaming world. They have had their own share of controversies, but that doesn't change the fact that they do make some great tools for streamers to use. One such tool is the Twitch extension Streamlabs Leaderboard.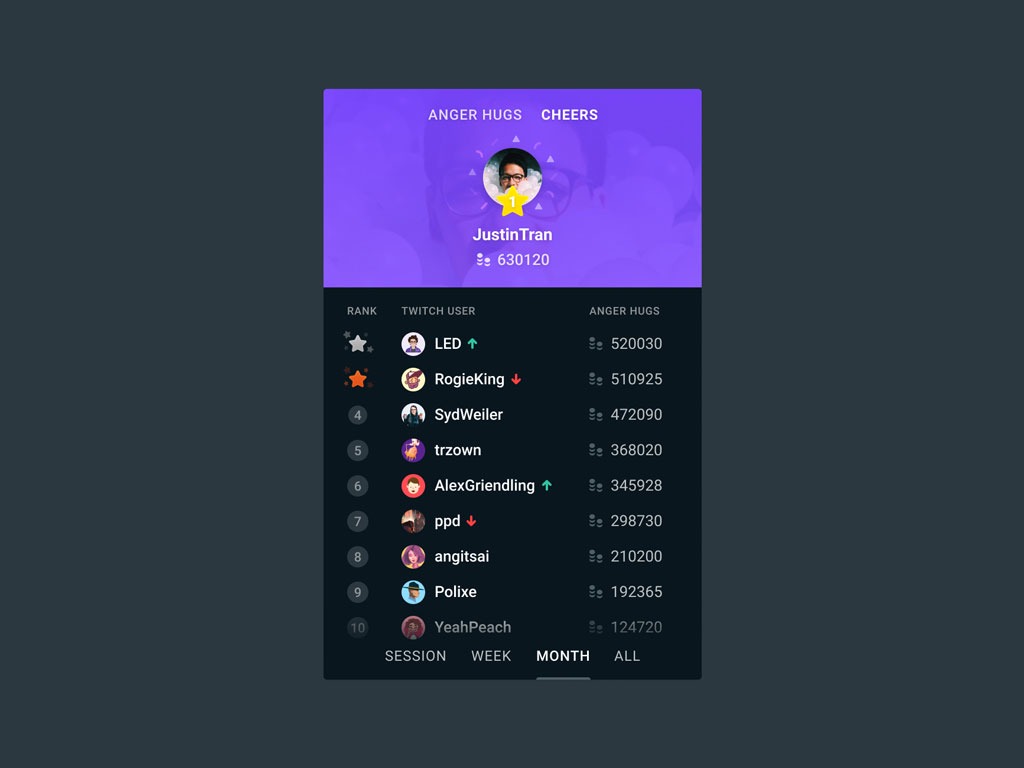 Streamlabs Leaderboard is exactly what it says — a leaderboard. The extension allows you to recognize the viewers who have supported you via bits (cheers) on your channel. It can also rank the chatters with the highest channel loyalty points if you have a stream loyalty/currency system. If loyalty points aren't available, the extension defaults to cheers only.
The leaderboards allow viewers to sort rankings in a few ways: overall, session, week, and month. The extension appears as a panel on your Twitch page which you will have to enable and configure. It has light and dark mode, so you can choose whichever one you prefer.
Stream Closed Captioner
If you are someone who wants accessibility for all, you might like the Stream Closed Captioner Twitch extension. After all, just because you're using your console to stream doesn't mean you shouldn't be able to provide your viewers with accessibility options.
You don't need anything special for this extension to work, so even on console you can use it! All you need to do to set it up is to enable this extension on your stream as either a panel or video overlay. Then, you can log into the accompanying website and click "Start Closed Captioning."
Viewers themselves have the ability to customize how the extension looks. They can change the text size between small, medium, and large. Viewers can hide the text altogether or drag it somewhere on the screen where it doesn't block any of the action. Additionally, there's the option to display the text box horizontally or in a box size based on their preference.
Want a demo? Check out this video.
Prime Subscription and Loot Reminder
The Twitch extension Prime Subscription and Loot Reminder is exactly what the name says. It reminds viewers with Amazon Prime to use their free Prime subs to subscribe on your channel and claim any available loot through Prime Gaming.
A recent update has also made it possible for viewers to use their Twitch Prime sub right within the extension overlay itself, making it easier for them.
Wrapping Up
You don't have to wait to start streaming if all you have is a PlayStation or Xbox. If you have a basic PC and a console, you can even use both together to give you more options, provided you invest in a capture card.
Either way, as a console streamer there are some Twitch extensions that can help you customize and improve your viewers' experience on your channel to keep them coming back for more!
Read more on GetOnStream: